PACK STYLES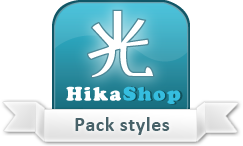 You want to change the styling of HikaShop layouts, and get a result more adapted to your own website template ?
You will find here several styles which will allow your HikaShop to adapt itself to your Joomla template.
The pack costs 40€
You can download as many styles as you want
You can install them on as many websites as you want
There is no time limit (so if you purchase the access now, you will be able to download every styles, current and upcoming!)
Get it now !
or Log in to download
Log in to download
Note that styles allow you to adapt HikaShop to your template, only hikashop elements will be concerned by those styles.
They do not replace your main Joomla template.
Choose your style