January
18
2017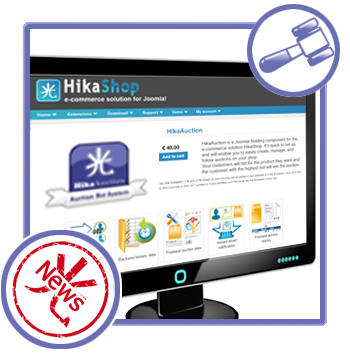 Our youngest extension, HikaAuction has now reached the 2.0 version!
With our auction extension you can create, manage, and follow auctions on your shop!
Required HikaShop version : 3.0.0 or newer
HikaAuction is continuing to evolve thanks to your feedback! Discover the changes and improvements for that new version.
For your customers, buying will be like a game and thus, they will be more often on your e-shop in order to not miss good opportunities!
What's new :
Features
New "Winner links" which enable customers to directly pay though the Hikashop Checkout with his auction product in his cart
New "HikaAuction Give up" checkout step that can be added through the Hikashop checkout workflow, and which will enable you to choose if you want your customers to give up on their auction or not
New "Checkout workflow" configuration option which enable you to override the Hikashop checkout workflow when your customers will pay their auction
New "Use Hikashop Checkout" configuration option which enable you to use the Hikashop checkout workflow so that your customers can pay their auction using the checkout workflow and not their order listing
Improvements
We re-organized and improved the displaying of HikaAuction configuration page
We Improved the displaying of HikaAuction Emails which will now correctly add a link to that product auction
We Improved the displaying of HikaAuction winner email so that it will automatically choose and send the good payment link (Payment via Hikashop order listing or Hikashop checkout workflow)
Fixes
We fixed an issue with the displaying of Emails
We fixed an issue that was happening when Auctions were closing
How to use
You first want to download and install HikaShop 3.0 by following the instructions here. You then want to download the install package of HikaAuction 2.0 here: Download HikaAuction 2.0 Just install it on your copy of your website like you did with HikaShop 3.0.
You'll be able to have HikaAuction use the HikaShop checkout by turning on the option "Use HikaShop checkout" of the HikaAuction configuration page.
Keep in touch folks.
Team HikaShop