Description
The HikaShop plugin for Google Products enables you to download a XML file in order to add to your Google Merchant account. You can also automatically upload this file with this plugin. This plugin is only available in our commercial editions. It is installed automatically with them. It is a great way of marketing your products by reaching all the users of the Google Products service.
Once your Google Merchant account will be setup, your products will be listed in the Google Shopping service: http://www.google.com/prdhp
Note that if you want to use the auto update, you first need to configure the cron task in your HikaShop configuration and then setup a new feed in your Google Merchant account where you will specify a file name that you will have to put in the "File Name" option of this plugin.
Please note that if you want to use the auto update feature of this plugin, you will need to make sure that your hosting company allows outgoing connections from your website, otherwise, it won't work.
Please note that this plugin is available only with the Essential and the Business editions of HikaShop.
Settings
You can set some parameters into the HikaShop Google product plugin:
Enable Auto Update: Automatically update your Google merchant feed via FTP. When you use this option, you also have to complete the 3 next fields.
User Name: Your Google Merchant account FTP username.
Password: Your Google Merchant account FTP password.
File Name: The file name you specified on your Google merchant account (It has to end with '.xml'). For example "products.xml". That's the file name that you have to enter when creating a new data feed in your Google merchant account.
Frequency: Frequency at which the Google feed will be updated (in seconds).
Last Update: Last date on which the feed was updated via the CRON task
Brand: Your products' brand.
Category: The category of your products as per Google merchant requirements.
Price Displayed: Choose the price you want to display if there is more than one for a product.
Taxed prices: Should the prices be displayed with or without taxes
Product Condition: Your products condition (used, new,...).
Short Description: Do not add the full description of the product but only up to the read more tag.
Message If No Description: Message displayed if a product doesn't have a description.
Item Id: If you want to display your products in a special context you can add here a menu id.
Add Product Code: Display or not the product code.
In Stock Products Only: Do not add the products without any stock to Google Merchant
Age Group: Your products age group
Gender: Your products gender
Size: Your products size
Color: Your products color
Download: Download the XML file. Then, you can import it manually in your Google account.
For the fields "Category", "Brand", "Age group", "Gender", "Size" and "Color", you might need to have different values for different products. In that case, create a custom field of the table "product" via the menu Display->Custom field for each one of these options and instead of entering the value in the option of the plugin, you would enter here the corresponding custom product field's column name. Then, in each product you would enter the value you want in the custom fields.
The plugin would then automatically pick the corresponding values in the products for these fields.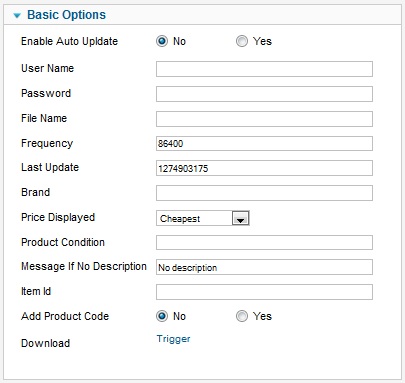 If you have the error message "Invalid attribute: price", it means that the main currency configured in HikaShop is not the currency of the country selected in your data feed options, in your Google Merchant center account. You either need to change the currency in HikaShop  or the country in your feed.