June
18
2021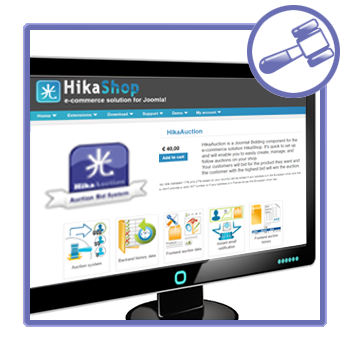 HikaAuction, our Joomla! bidding extension for HikaShop, enabling you to setup auctions, continues to progress to offer you even more services and possibilities.
It now fully support Joomla! 4.

Required HikaShop version : 4.4.3 or newer
HikaAuction is continuing to evolve thanks to your feedback ! Discover below every new changes, features and improvements available in this 3.1.0 version.
The main news here is the increase in options, possibilities and ways to use HikaAuction with other components around HikaShop, like HikaMarket. The philosophy of HikaAuction remains the same, allowing your customers to buy as easily as a game, and also encouraging them to come back regularly on your website in order to not miss good opportunities !
Let's now detail, what's new in this release !
What's new :
Features
We've added an email which will be sent to the Hikamarket vendor email who created the auction at the end of it.
We improved the way auctions were displayed via product listings by automatically adding a "Go to auction" button
We've added an HikaMarket auction history through the front-end product configuration page
We've added a Buyer's premium option which will be applied on the auction winning price during the checkout workflow
We've added a Joomla 4 compatibility
Improvements
We'll now correctly support Vickrey auction prices on outbid emails
Fixes
We fixed a php warning that happened before the payment
We fixed a compatibility issue we had with Hikashop's installation through the Joomla 4 rc1 version
We now correctly load JS files through HikaAuction configuration page
How to use
You first want to download and install HikaShop 4.4.3 by following the instructions here: Download HikaShop 4.4.3
You then want to download the install package of HikaAuction 3.1.0 here: Download HikaAuction 3.1.0
Just install it on your copy of your website like you did with HikaShop 4.4.3.
With this new version, You'll be able to :
Have a better synergy between HikaAuction and HikaMarket
Add a Buyer's premium to your auctions
Use HikaAuction with the Joomla!4 and future versions
Keep in touch folks.
Team HikaShop