October
20
2017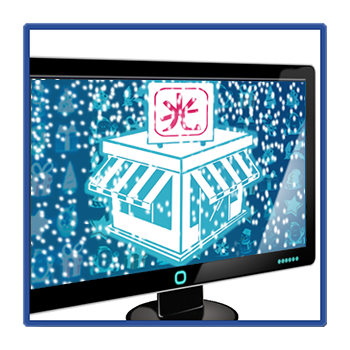 Here are some ideas to optimize your shop for this important period, Christmas . Hoping this will help you, and especially that you will discover some things you didn't know, let's jump in !

Use badges to highlight your products !
Here, the point is for the customers to be able to clearly distinguish the relevant products from others. For example, the ones that are a good fit for gifts.
If your shop is old enough, have a look at what kind of products sold well around this same period in the past years.
In HikaShop, you can use the Orders>Reports menu to generate such statistics on your products.
When you have your selection, add a specific badge to distinguish them and catch the eye of your customers ! It will be smart to create a specific unpublished category and assigned it to the badge and to these products. First, that will allow you to easily add/remove the badge on the products by adding/removing the category in them. Secondly, it will allow you to create a HikaShop content module specifically for that category to display these "recommended" products if necessary.
If you have lots of products, you can even think about using the carousel effects on it to dynamically display the products in the module.
Let's summarize :
Create and add badges
Create HikaShop content module instances via the Joomla modules manager
Add a listing module on a central position.
Use carousel effects and other slider effects.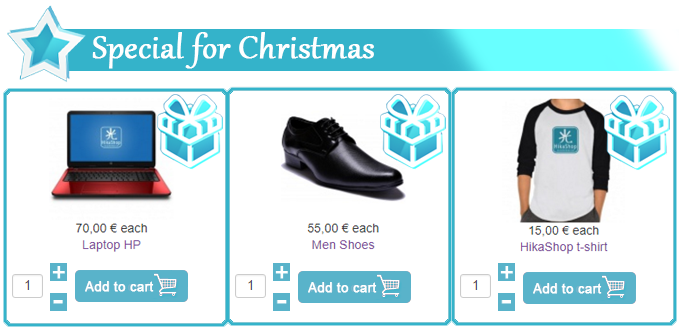 You can find here some tutorials to help you set these up :
Listing and Modules
Badges
Modules: Look at the "Product display" section of our Integration documentation section to discover all the products slider modules compatible with HikaShop.

Email Voucher and gift certificates
The first thing you can do is to send a newsletter for such period of the year. When customers have lots of shopping to do, it can remind them your online shop is still here and opened and all day long, and maybe trigger a sale from them.
On top of that, you can include a generic coupon code in it. It can really help drive in sales and is very easy to do. Better yet, you can send newsletters with unique coupon codes, for specific periods, events, or customers birthday.
Offering unique coupon codes creates customer loyalty and the best newsletter component to do that in Joomla is Acymailing.
There is a specific integration between Acymailing and HikaShop for coupon generation in order to be able to do that.
Newsletter with Acymailing
When you edit a newsletter in Acymailing you can add tags.
These tags will generate some dynamic content in your newsletter for each person receiving it. It can display user information (firstname, lastname), product details, etc and most importantly for our current subject, a coupon code.
Use the tag button in the toolbar to open a modal box for the tag creation.

Depending on the version of Acymailing you are using and the status of your AcyMailing plugin, you will have different features for the tags.

The integration with HikaShop requires a commercial edition of HikaShop which starts with HikaShop Essential.
Thanks to that integration plugin, when you insert a tag in your newsletter, you will find a HikaShop button.
That plugin allows you to insert more than coupons.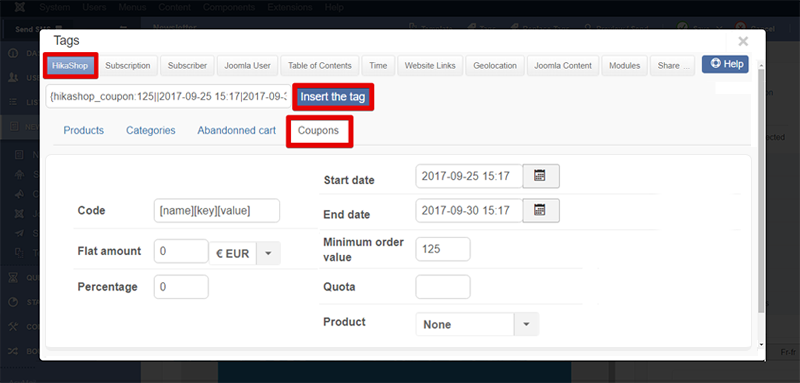 The coupon code tab contains settings in order to define the details of the coupon codes that will be generated during the sending process ; Acymailing is using meta tags which will be replaced by specific content.
You will be able to use tags like [email] or [clean_name] which will be replaced by the email or the name of the user without spaces.
An interesting feature in that integration is the Product setting.
If you want to advertise one product in your newsletter and propose an unique coupon code to buy it; it is the perfect option!
That way, the coupon will only be usable on that product. If you create a 50% discount, the discount will only be applied on the targeted product, even if the customer purchases other products with it in the same order.
vouchers with HikaSerial
On the other hand, when you have too much gift products on your website, it can be overwhelming for your customer to find what they could purchase and whether it would make the receiver happy. So a good idea can be to simplify their choice.
As a owner shop, you can offer them an easy solution to that by using the voucher system. That way, they purchase a voucher on your shop, offer it to someone, and that other person can redeem it on your website.
You even get the added benefit of having a new person discover your website !

You can read on how to setup such gift certificates on this tutorial of HikaSerial.
Have a look on AcyMailing's website to discover the number one Newsletter system for Joomla! And if you don't already know HikaSerial have a look here.

In order to complete our suggestions here, we invite you to look at this old blog article on the same subject.
Team HikaShop