Available languages
HikaShop is actually fully translated in 30 languages and partially in 11 languages.
By default, only the english language is on the installation package in order to reduce its size. If you use other languages that weren't installed during the wizard setup phase of the installation of HikaShop, you simply have to go on the HikaShop Configuration page ("Hikashop->System->Configuration"), click on the tab "Languages" and then create your own language. HikaShop will propose you to load the latest version of this language directly from our website. Finally, you simply have to save the language to have it on your website. If you don't see your language there, that's because you first need to install your language in Joomla before you can install it in HikaShop.
For any reason, if your language file could not be automatically installed, you can manually download it below and upload it in the folder language/TAG (you need to replace TAG by the tag of your language) of your website via FTP:
HikaMarket Languages
HikaSerial Languages
How to translate HikaShop ?
If HikaShop is not translated in your own language, you can easily add a language file in HikaShop.
Log on the administrator section of your website.
Click on the menu Components -> HikaShop and then on the HikaShop menu System
Click on the tab Languages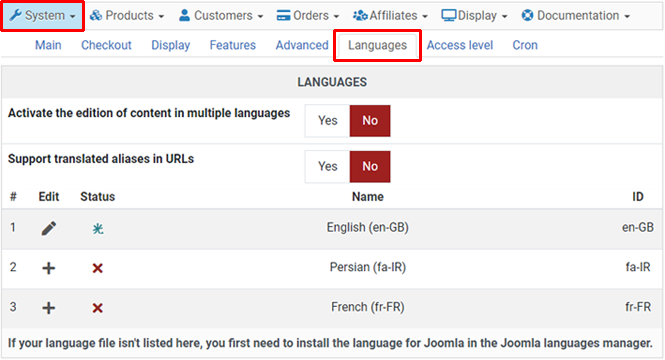 If HikaShop is not translated in your language, you should see a small Add Icon next to your language (only installed languages are displayed on this area so you have first to make sure the Joomla language file is installed on your website).
Click on the add/edit icon and you will redirected to a page edition, enabling you to modify the language file.
If the language file already exists, you will be able to modify any string used by HikaShop with this interface.
If the language file does not exist, the English version will be loaded so that you can translate the strings from this English version.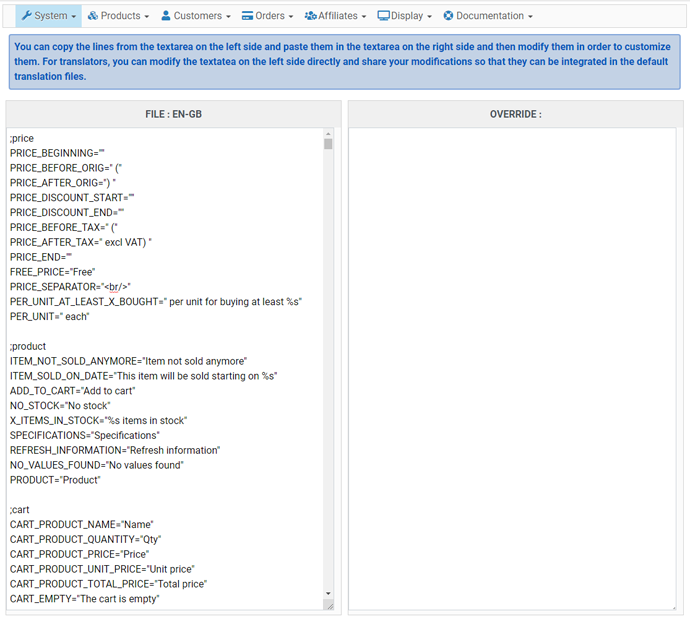 The lines starting with # should not be translated (example : #price )
Each translation string is composed by a namekey (in upper-case) and the translated string separated by an equal sign (=).
The translations are enclosed in double quotes. You should keep them while translating and not add double quotes in the string when modifying a translation as that would break the file.
You should not modify the string before the equal sign, otherwise, you will break the language file.
Example: The 8th line of this file :

PRICE_AFTER_TAX

="With VAT) " should be changed to

PRICE_AFTER_TAX

="TVA incluse) " for the French language.
Do not add any return character in your translation, otherwise, you will break the language file.
Sometimes, you will see the sign %s. This symbol indicates a variable which will be replaced by a string or a number in HikaShop.

Please do not modify this symbol!
If there are two %s in the translation, please do not change their order in the sentence.
Once you translated your language file, you can click on the button Save.
Then, if you want to share your language file with the rest of the community, please click on the button Share.
Sharing a language file is very important so that we can include your language file in our next versions.
Even if you translated only few strings, we would appreciate if you could share those modifications, so that you will be able to update HikaShop without loosing your work.
How to translate your content (products/categories/etc) ?
In order to translate your content, you have three solutions:
1. You can create several category trees (one per language), duplicate your products for each category tree and create different Joomla menu items attached to the different category trees' main category.
The cons are that it requires a lot of management work if you have a lot of products and you can't handle the stock management across the different languages for your products. If you don't need to manage the stock of your products and have only a few products, it's however a solution.
2. You can install the third party translation extension Falang. HikaShop is integrated with it and it will allow you to translate your content directly when you edit them and won't duplicate them. That way, the management of the translations is made easier and the stock management is possible.
The cons are that it requires another extension on your website and that Falang will slow down the processing of the pages on your website. Here is a tutorial explaining how to set that up: translations with Falang
3. You can just activate the "Activate the edition of content in multiple languages" setting of your HikaShop configuration (after your configured the languages for Joomla) and then use the translation interface provided all around HikaShop's backend. The method is simple, efficient and the one we would recommend. However, as it uses translation overrides, this can lead to conflicts with texts from different areas sharing the same translation. So if you have a lot of content to translate. We recommend that you understand the translation override system as explained below as you will probably have to use it at some point.
How to modify translations for my precise case ?
You will probably want to change a translation so that it fits your case. For example, we use the word VAT in our english translation file but you might prefer "Sales tax" instead. You could edit directly the translation file like explained above but when you update HikaShop and its language files in the future, you will loose your modifications. Instead, you can copy/paste the lines you want to change to the override textarea next to the translation file textarea and do your modifications there. This "override" file won't be changed by HikaShop when you update and that way, you will be able to keep your modifications while still getting the new translations we publish.
For example, if you want to change the word VAT to use "Sales tax" instead you would:
Go in the configuration of HikaShop via the menu Components->HikaShop->Configuration in your back end and then open the tab languages.
Click on the "change" icon of your language file which opens a new page where you can see your translation file and an override textarea below it.
Search for the lines with the word VAT in the translation file and copy/paste them to the override textarea on the right side.
Change the text in the override file to suits your needs.
Save the modifications.
Note that since Joomla 2.5, Joomla has an interface to do that in the Languages manager. HikaShop's translation override system is compatible with Joomla's so you can use one or the other. Here is a tutorial explaining how to use it:
http://www.inmotionhosting.com/support/edu/joomla-25/language/add-new-language-override
Also, you'll find more information on the format of translation strings here.